Call : 01642 913727 Monday-Friday: 9am - 5pm. Saturday: 10am - 4pm
30,000
+ Happy Customers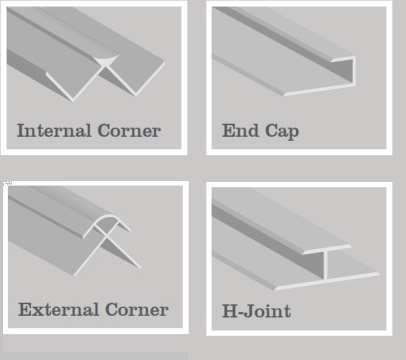 Acrylic Wetwall Trims & Accessories
Acrylic WetWall trims and profiles are for use when installing Acrylic WetWall boards and have a channel 4mm thick for Acrylic Wetwall boards only.
WetWall corner trims and profiles are used in corners of the bathroom installation with end caps to finish the revealed end.
Jointing profiles (H Joints) are also available to join two WetWall shower boards together in a run of panels where required.

WetWall Shower Seal is ideal for sealing your Wetwall shower boards on top of your bath or shower tray if this is already installed in place.
WetWall trims are in a colour match finish as standard or these can be upgraded to polished silver trims, all profiles/trims are 2500mm long.
Acrylic WetWall trims and accessories are only available to purchase when purchasing Acrylic Wetwall Boards.
Acrylic Wetwall Trims & Accessories
Acrylic Wetwall Trims & Accessories
Information
Customer Service
Copyright © 2016 Rubber Duck Bathrooms Ltd