Call : 01642 913727 Monday-Friday: 9am - 5pm. Saturday: 10am - 4pm
35,000
+ Happy Customers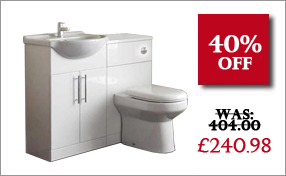 Comfort Raised Height Toilets
Comfort or raised height toilets available from Rubber Duck Bathrooms.
The Main difference between a Comfort Height toilet and a regular toilet is that it that a Comfort Height toilet has a higher seat. A regular toilet has a height of about 400mm to the seat base. However, a toilet designed for an elderly person, or someone who needs more assistance in the bathroom, has a seat with a height of around 455mm from the floor to the base of the seat.
Ideal for less able or taller individuals these toilets reduce pressure on your knees and back when sitting or standing up, but many people fit them for the simple reason that it provides a comfortable sitting position.
Information
Customer Service
Copyright © 2016 Rubber Duck Bathrooms Ltd