Call : 01642 913727 Monday-Saturday: 9am - 5pm
35,000
+ Happy Customers

Types of Basin Wastes
30 Nov 2017, 12:41 PM
In the modern bathroom, there are a number of different types and styles of basin waste available. This can become confusing to a customer wishing to purchase a basin waste and sometime off-putting. We hope this guide to the different types of basin waste will help you choose the right style basin waste to suite your chosen bathroom style.
Plug and Chain
This is the most traditional form of basin waste which most people will be familiar with. It consists of a plug (either plastic or metal) that is connected to a chain that can be moved to cover the waste hole or put to one side when not being used. Plug and chain wastes are the most basic wastes available, but be careful as not all basins are suitable for a plug and chain. Plug and chain wastes requite a chain stay, this is a hole in which the chain is the opposite end to the plug, where the chain fixes to the basin. Most modern style basins do not have a chain stay hole. It is worth checking before purchasing.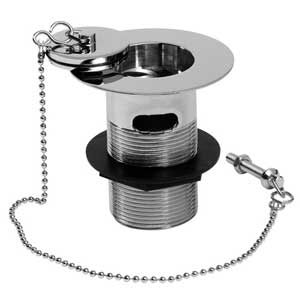 Push Button Waste, Click Clack Waste Or Sprung Waste
Push Button Waste, Click Clack Waste Or Sprung Waste, these are the same, they are just named different, normally depending on the region you are from. This type of basin waste is the most popular option, as it has a simple design making it easy to use and maintain. You simply push down on the stopper once to close it and push/click it again to open it. There are a couple of different types of Push Button clicker wastes including easy clean wastes which make removing hair and dirt from the waste easier.

Pop-Up Waste
Pop-Up Waste basin wastes work with the use of a lever or bar often found on the back of your basin tap. The lever is pulled up to lower the plug stopper, and pushed down to pop up the waste. These wastes are normally supplied with a basin tap and will be described and a pop up waste.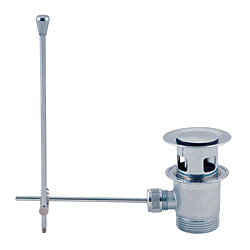 Flip Top Waste
Flip Top basin wastes are disc shaped plugs that are seated inside the waste hole, meaning that you rotate the stopper and water can flow through or be stopped for filling the basin. These disc shaped plugs are none removable from the waste.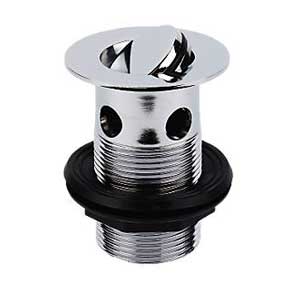 Freeflow Wastes
Freeflow Wastes often look like a Pushbutton or Click Clack waste but do not close. These wastes are freeflowing and remain open at all times and do not allow the user to close the plug. These are often using in commercial bathrooms to stop users overflowing basin or in small cloakroom where smaller basins may not have an overflow.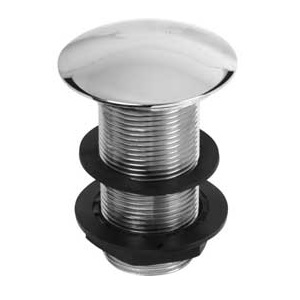 Captive or Anti-Tamper Wastes
Captive or Anti-tamper wastes are basin waste there bringe the gap between a plug and chain and a click clack waste. Anti-tamper have a plug which is attached to a bar which is then attached top the waste fitting. This stops the plug from being removed from the property. These are commonly used in public places and commercial environments.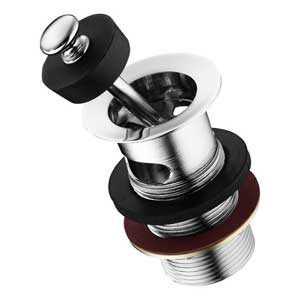 All the above basin waste are available in both slotted and unslotted versions. To learn more about slotted and unslotted basin waste and which you may require, please read our guide on slotted and unslotted basin wastes.
At Rubberduck Bathrooms we offer a full range of basin wastes. Be sure to visit our plumbing section or call into our Plumber Trade Counter to find a full range of plumbing accessories and parts.
This guide was created for reference only. www.rubberduckbathrooms.co.uk can not be held responsible for injury or damage caused if you decide to use this method.
Information
Customer Service
Copyright © 2016 Rubber Duck Bathrooms Ltd