Call : 01642 913727 Monday-Saturday: 9am - 5pm
35,000
+ Happy Customers

Things To Consider With A Low Pressure Gravity Fed System
17 Oct 2017, 9:15 AM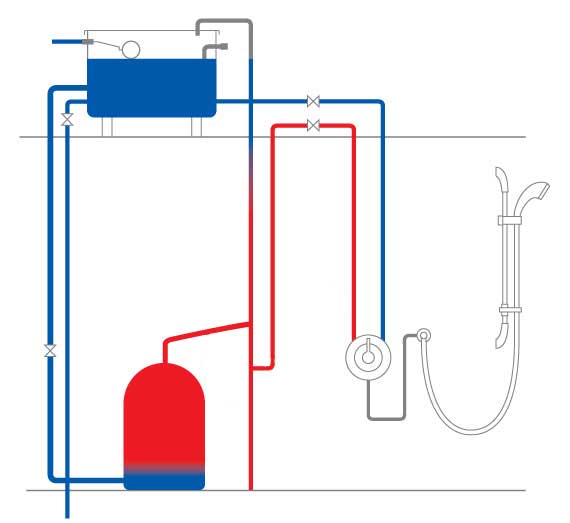 What is a low pressure gravity-fed system?
Low pressure gravity-fed systems are one of the most common domestic water systems installed in homes across the UK. Low pressure gravity-fed systems consist of a cold water tank usually situated in your loft and a hot water tank (or cylinder) that is normally in your airing cupboard.
How much pressure is produced by a low pressure gravity-fed system?
The pressure a low pressure gravity-fed system offers is determined by the height at which the water level in the cold water tank is situated above the shower head (not shower valve). The amount of pressure is calculated in bars and is worked out to be 1m fall = 0.1bar pressure. The greater the height of the water level above the showerhead the more pressure is created.
A good general rule, would be to have the base of the cold water tank (the bottom of the tank) at least 1m higher than the shower head, as this should create enough pressure for a good water flow.
If you have this kind of system and you can't change the height of the cold water tank to give you more pressure, you can install a low pressure shower or an all-in-one power shower for a great showering experience. If you decide on a mixer and want a more forceful shower, fitting a shower pump will boost the flow rate and pressure even further!
Can I have a shower pump?
Only low pressure gravity-fed water systems would need a shower pump really. The flow rate you're currently getting from your water system, combined with the number and type of installations you have in your property, will determine what kind of pump you require.
Check with your installer that the cold water storage tank and hot water cylinder are big enough (as the hot water may run out). Always check with a qualified installer before purchasing your pump.
Pressure does not only effect showers!
Your water pressure effects more than your shower, this also needs to be considered when choosing any bath filler taps or basin taps too. If you choose a tap that isn't suitable for a low pressure system, then you may find it takes a very long time to fill your bath or basin.
Can I increase pressure without a pump?
Yes. Water pressure can be increased in your home without a pump in 3 different ways.
First of all the cold water tank in the loft could be raised higher if there is enough room above the tank. This will increase the pressure of the water, but raising the tank a whole one meter will only increase pressure by 0.1bar
Install a combi boiler - Installing a combination boiler will remove both hot water and cold water tanks and offer high pressure hot water throughout your home.
Install a pressurised cylinder or megaflow cylinder. These will replace your existing hot water tank and uses mains pressure to refill and force out the water from the tank instead of water from the cold water tank in the loft. This make the tank in the left redundant and can be removed.
Should you wish to increase the pressure of hot water in your home, speaking to a local gas safe installer is advisable.
If you require more information please feel free to contact us on 01642 913 727 and we'd be happy to help.

This guide was created for reference only. www.rubberduckbathrooms.co.uk can not be held responsible for injury or damage caused if you decide to use this method.
Information
Customer Service
Copyright © 2016 Rubber Duck Bathrooms Ltd