Call : 01642 913727 Monday-Saturday: 8am - 5pm
35,000
+ Happy Customers
The Benefits Of Shower Panels Instead Of Tiles
16 Oct 2017, 11:06 AM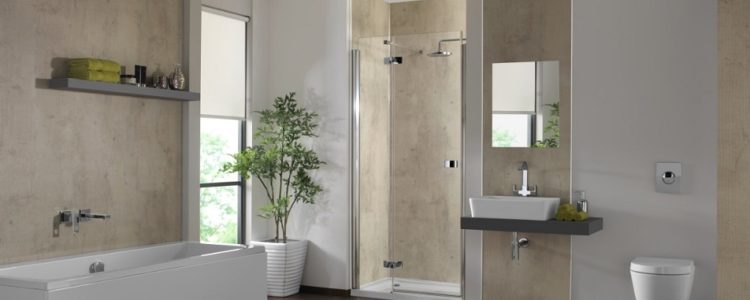 If you are reading this then you have more than likely been searching for alternative to tiles. This suggests that you already understand the short comings of traditional tiles in a bathroom. So if that's you and in order to get things down on paper so to speak why might you choose shower panels instead of tiles?
Shower panels and shower wall cladding is becoming more and more popular in bathrooms due to it benefits over tiles, but what are these benefits?
The Benefits Of Shower Panels Instead Of Tiles
Cost – The cost of both bathroom cladding and tiles will differ depending on the type and brand of wall panelling (see our guide to bathroom cladding) or tiles you choose. The decor, colour and size of tile will impact cost. If you choose a comparable finish of tile and compare the cost in terms of square metres, shower wall panels will more than hold it's own, even before you start to take into account the costs of tile adhesive and grout.
Fitting Speed – Undertaking tiling to a good level requires a skilled tradesman with many years of experience and like any skilled tradesman they come at a cost. That's not to say Shower Panels doesn't require a degree of skill to install but it is an easier proposition to tiling and you may be able to employ a more general property maintenance to install. Given the size of the sheets it's also much quicker to install since you cover more space, this means you're also employing a fitter for less time reducing costs further. With bathroom wall panels you can often have a shower installed the same day as you are not having to wait for the tile adhesive and grout to dry.
Less Mess – Fitting bathroom cladding is a relatively dry process. Tiling a wall after the surface has been prepared still requires 2 wet stages. Applying tile adhesive to bed the tiles on to and then grouting once dry. This can be a messy process. At it's most basic shower panels simply require panel adhesive, comes in a silicone gun tube, to bond the panel to the wall.
Easier To Change – Removing and replacing tiles can be a big job. Even a decent tiler will take half of the plastered wall away with them when removing the old tiles. This process takes time. Wall cladding can be installed over existing tiles, as long as the tiles are not bumpy or falling off the wall. If you fancy a change of panelling it will be relatively easy to ease from the wall. Let's be right it won't all be plain sailing but by comparison to tiles far easier. You can also use the old panel as a template for the new one, useful if you've fitted around windows or other features.
It Won't Discolour – Tiling looks great when it's first installed but over a period of time they can look grotty. This is particularly true of the grouting which with a white grout will turn orange/pink in a shower space. Yes you can clean this and furthermore replace it or white over with a pen. It's still time and expense though, Shower panels requires a simple wipe and the finish will not discolor.

The Benefits Of A Tiled Bathroom Wall
It wouldn't be a fair comparison if we don't look at some of the benefits of a tiling.
Lots Of Choice – While shower wall boards come in over 70+ designs and growing it's fair to say that there are literally 1000's of designs of tiles available, in every colour and style imaginable. However can you have a family photo blown up and applied to tiles? A picture of your cat even? No you can't, but you can with some bathroom wall boards including Showerwall.
Design Flexibility – tiles give more flexibility when it comes to the overall look of the room. Tiles can be stacked, brick effect, portrait, landscape, have board tiles in between, staggered in patterns and much more. Shower wall boards don't have this amount of design flexibility.
Can Be Repaired – If you crack a tile in your bathroom or drill holes for a shower caddy that you later remove, if you have spare tiles from when they were installed, a single tile can easily be broken out and replaced with little fuss. This is not the case with shower panel boards.
Tradesman More Familiar With Tiles – Tiles have been around for years and many tradesmen are familiar with them and there is a whole trade, Tiler, around them. There is no such trade for a bathroom cladder or showerwaller but most bathroom installers with joinery skills will be able to install shower panels, but you will need to ask.
Ultimately this piece is not about trying to make tiling out to be the root of all evil and it even worth considering a mix of both shower wall boards and tiles when it comes to renovating your bathroom by using panels inside and round the wet areas of your bathroom, ie inside the shower, and using tiles for the rest of the room. This gives you the easy maintenance and speed of installation for the wet areas of you bathroom, but also gives you the design flexibility for the rest of the room.
We hope you find this article helpful. Please view our range of bathroom wall boards and read our other pieces on bathroom design on our website at www.rubberduckbathrooms.co.uk
This guide was created for reference only. www.rubberduckbathrooms.co.uk can not be held responsible for injury or damage caused if you decide to use this method.
Information
Customer Service
Copyright © 2016 Rubber Duck Bathrooms Ltd