Call : 01642 913727 Monday-Saturday: 9am - 5pm
35,000
+ Happy Customers
How To Choose a Bathroom Towel Rail
7 Dec 2020, 3:17 PM
Once considered an expensive luxury item, bathroom towel rails have become a standard fixture in bathrooms up and down the country. Some designers and homeowners are even utilising their stylish appearance in the kitchen or utility rooms.
The most important aspects to consider when picking out a new bathroom towel rail is what type of towel rail you need, what size is right for your bathroom, kitchen or utility room and all the finishes that are on the market today. Theirs a huge choice when it comes to Tissino bathroom towel rails so when it comes to picking the right one it's important to get it right the first time.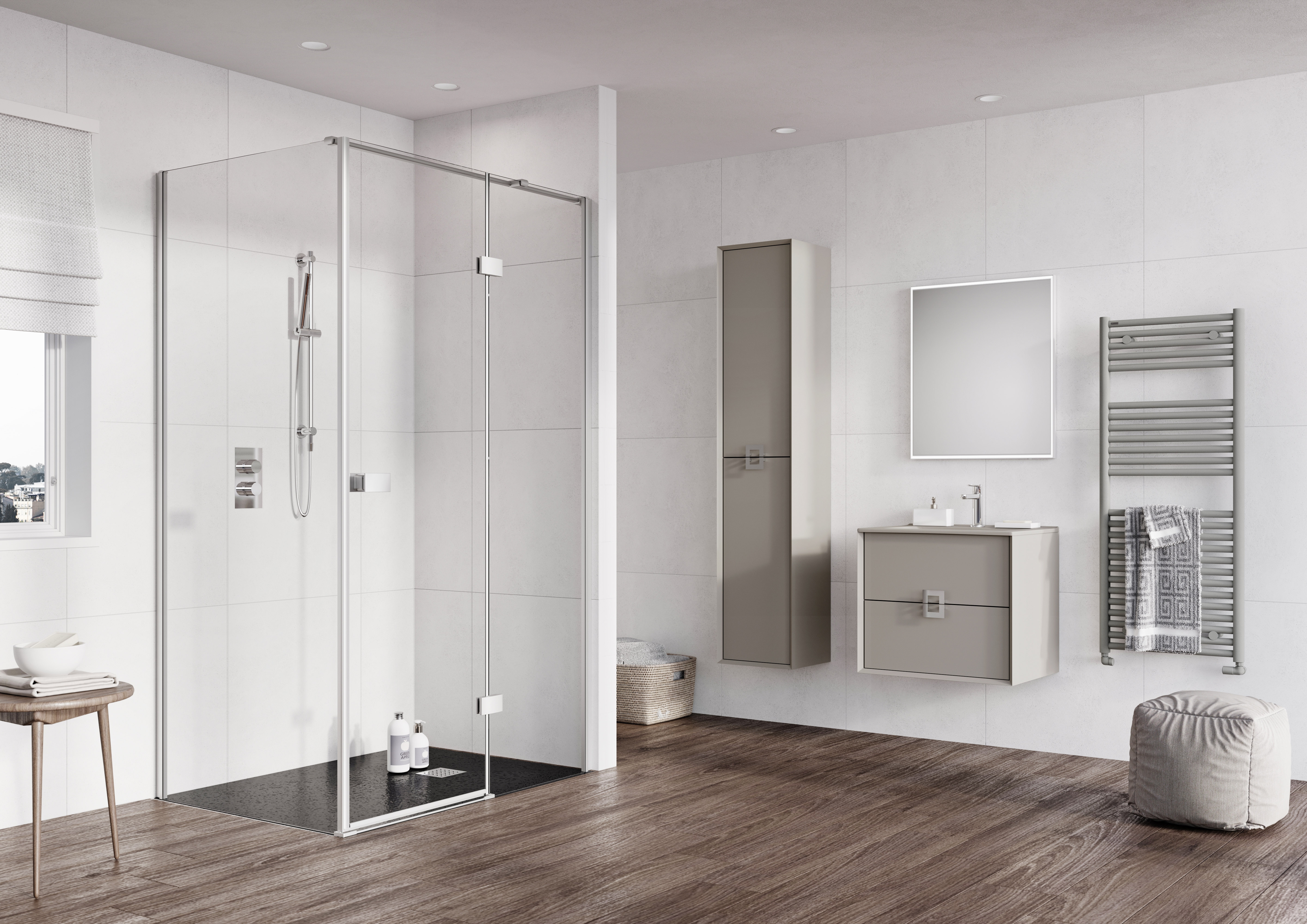 What size Towel Rail do I Need?
We've all been there, stood in the aisles at a DIY shop or endlessly clicking through the filters of an online shop, looking at all the different choices and prices and thinking to yourself "It's only to keep my towels warm". In reality, heated towel rails can do a lot more than that. If you work out the BTU requirements of your room and match that up to the output of your chosen towel rail, it will have enough power to warm the entire room by its self!
All towel rails sold in the UK will have a BTU rating which is the measurement of how much heat it can output per hour. This is essential to consider when shopping for a new bathroom towel rail as the higher the number the more powerful and effective the towel rail is which will heat your bathroom quicker and even save you money on your energy bills.
It's recommended that you select a towel rail that exceeds the needed output for the room, this means that you can enjoy some extra heat in the winter while being able to easily turn it down during the hotter times of the year. Our handy BTU Calculator (click here) will let you know the output and wattage required for your room.
What Type of Towel Rail Should I Get?
Central Heating
Most homes in the UK are heated by central heating. If your home is heated this way, all you'll need to do is have a trained plumber connect your new Tissino towel rail to your existing heating system. Tissino Hugo2 towel rails produce enough BTU to heat not only your towels but your whole room in the same way a standard radiator would.
Electric Only
For homes that don't have central heating systems or for those who want to quickly instal a heated towel rail without the cost of re-routing pipes and a plumber, an electric towel rail is a perfect choice. They are very easy and quick to install by a qualified electrician and offer a cost-effective way of keeping your towels and robes nice and warm all year round. Tissino towel rails can be converted into electric towel rails, they are then filled with heating fluid, sealed and leak tested.
Dual Fuel
A dual-fuel towel rail is plumbed into your central heating system but also includes an electric heating element.
A dual-fuel towel rail can then be heated by your homes boiler like a regular radiator, or when the system is not in operation it can be isolated and heated separately by the heating element. This gives you the luxury of heated towels after a bath or shower even in the summer months when you might not want to run your entire heating system.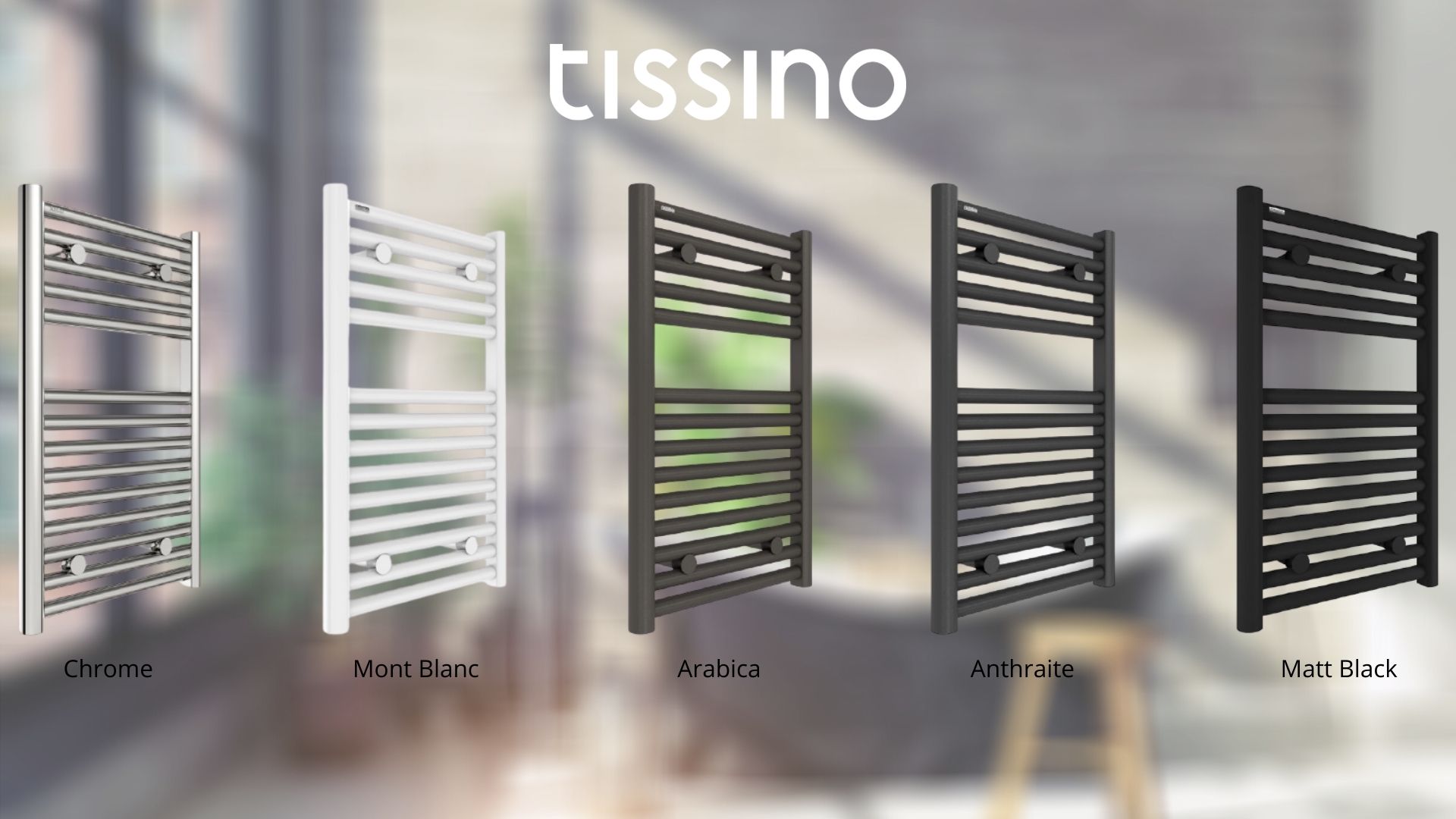 What Towel Rail Finish/Colour Should I Get?
When choosing a towel rail for the bathroom, most people will think about the cost and function of the product over style. This is a shame because when it comes to bathroom towel radiators, theirs so many choices out there in terms of styling and colour that can really make your towel rail the focal point of your bathroom.
Please do bear in mind that the BTU output of a chrome towel rail is usually a considerable amount lower than a textured or gloss-finish towel rail. For example, the BTU output for an 812 x 600mm chrome towel rail is 1522 whereas the same towel rail in a textured of gloss finish would be 2320 BTU
Chrome Towel Rails
The first mass-produced towel rails in the UK were chrome finished, making their appearance over 30 years ago. To this day they are still the most popular towel rail finished due to a mix of how long they've been on the market and the fact that they will easily match the other fittings in most bathrooms.
White Towel Rails
White towel rails are quickly catching up to chromes popularity as the finish of choice, mainly due to white matching most bathroom suites in the UK. white is also a popular choice with those seeking a clean and minimalist look for their bathroom.
Grey & Anthracite Towel Rails
With the increasing popularity of grey tones in the home over the last few years, grey fixtures and fittings have also increased in popularity due to their contemporary look and designer feel. The simplest of towel rails can be upgraded to fit with the latest trends by being finished in grey or anthracite.
Where Should I Put my Towel Rail?
One of the biggest misconceptions about the placement of a towel rail (or any radiator for that matter) is that it shouldn't be placed near a window or on an outside wall or the heat will somehow evaporate. In reality, the best place to hang your new heated towel rail is on the coldest wall in the room which is often the wall with a window on it or where the other side of the wall is external. By doing this you ensure that the heat is evenly distributed throughout the room your towel rail is placed in.
Another consideration you should make is where the towel rail is concerning the bath or shower as no one wants to walk across the room to grab their towel after a relaxing bath or shower.

This guide was created for reference only. www.rubberduckbathrooms.co.uk can not be held responsible for injury or damage caused if you decide to use this method.
Information
Customer Service
Copyright © 2016 Rubber Duck Bathrooms Ltd