Shower Panels & Boards

Wetwall

Wetwall Acrylic Sheet

Lustrolite

MultiPANEL

PolyPANEL

TilePANEL

BushBoard Nuance

MegaBoard Panels

Neptune uPVC Wall Panels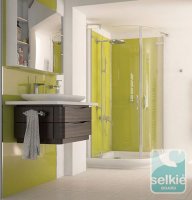 Selkie

Showerwall

CleanPANEL
Shower Boards and Shower Wall Panels (also know as bathroom wall panelling, bathroom wall boards or bathroom cladding) can be installed in any room of the house and are ideal for bathrooms, showers rooms, wetrooms, en-suites or even under and around units in a kitchen. Shower Boards & Bathroom Wall Panelling possess a number of qualities that makes it the ideal wall covering for use in bathrooms, shower cubicles & wetrooms. Unlike ceramic wall tiles, shower boards, shower wall panels, bathroom panelling & bathroom cladding is warm to the touch so condensation will not form on it, therefore mould growth is inhibited and because bathroom cladding and panels has no grout to turn mouldy, cleaning is simple, just a quick wipe over with soapy water.
At Rubberduck Bathrooms we offer a large range of shower boards & bathroom cladding that are very well suited to areas of the house with high humidity (such as the bathroom) but bathroom cladding is equally effective in a shower room, kitchen, wet room or utility room. We offer the range of bathroom wall panels from MultiPanel, Showerwall, WetWall, Selkie, TilePanel, Lustrolite, WetWall Acrylic and 100% waterproof Nuance boards by BushBoard.
Many of our wall panels boards are constructed using a Ply Board backer with a laminated front, for example MULTIpanel, where other boards such as ShowerWall are constructed on a moisture resistant MDF core with a laminated front. Panels such as WetWall or Selkie have the option of MDF or Plyboard Base construction. POLYpanel are constructed from 100% reinforced plastic which is very rigid and strong where CEILINGpanel (which can also be used on walls) is a non-reinforced plastic panel that is light weight and can be bent around corners. Lustrolite and WetWall Acrylic panels are constructed from hardened acrylic with a colour reverse, these bathroom panels give the impression of glass wall panels but at the fraction of the cost and fitting time.
As shower wall boards and shower wall panels are easy to clean and mould resistant, they are ideal for hotels, schools, hospitals and many more businesses. For more industrial and commercial areas (for example kitchens and staff corridors) we also offer the CLEANpanel range of wall boards which are perfect for wall covering for commercial and food preparation areas.
Featured Bathroom Products - Shower Panels & Boards
Your IP Address is: 54.146.248.111