Call : 01642 913727 Monday-Saturday: 9am - 4pm
35,000
+ Happy Customers
What do I need for a walk-in shower enclosure?
20 Apr 2018, 11:37 AM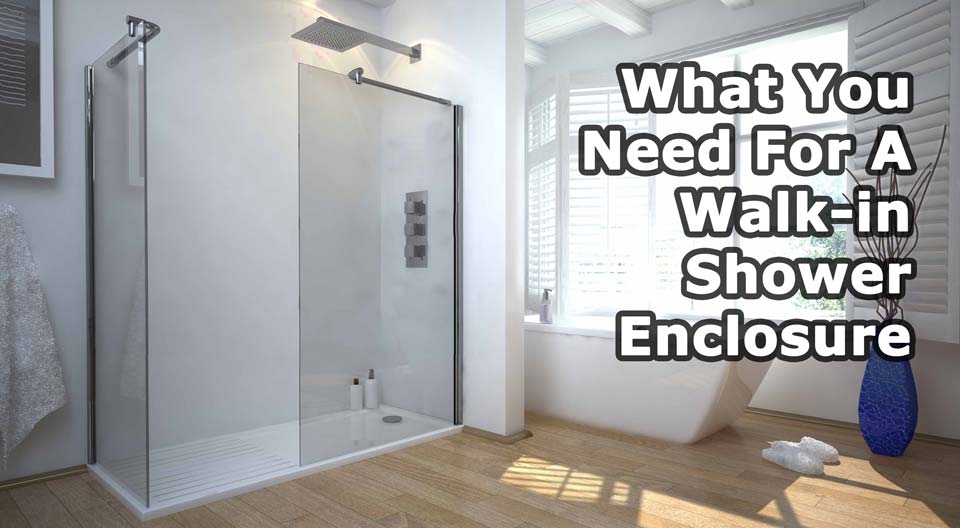 What do I need for a walk-in shower enclosure?
A walk-in shower enclosure is unlike most other shower enclosures as the enclosure is completely free of doors allowing you to just walk-in to the showering space. The walk-in shower enclosure is constructed from a shower tray, which may be installed to floor level or raised from the floor depending on how the plumbing can be installed, and glass panels to deflect and contain the water within the shower tray.
What Shower Tray Do I Need?
The walk-in shower largely comprises of a shower tray and screen, so you can step straight into the shower onto the shower tray, without opening any doors. The shower tray you need will depend on the size of the space you have and the location of the waste plumbing and floor joists. Dedicated Walk in shower trays are available which often feature a drying area or duck board but a standard shower tray can also be used. We would recommend a 40mm think or less tray to keep your walk-in shower enclosure looking stylish and easy to step into.
If you are installing in a room with a concrete floor or where the waste exisits above floor level if may be necessary to install the shower tray on legs or on a platform to allow the waste water pipework to be installed under the tray.
What Glass Panels Do I Require?
Glass panels are used to deflect water from the splash of shower back into the shower tray. The glass front gives an open and spacious feel to the shower.
If you are installing your walk-in shower in a recess you will only require a glass front panel, but if this glass is only small, ie 800mm or less, you may wish to add an additional hinged panel, also known as a flipper panel, to extend the length of the glass. These flipper panels are hinged and fold out the way allowing for a larger opening.
If you are installing you walk in shower in a corner of a room and wish to enter from the front then you may require a glass end panel. This glass panel can be the same as the front panel but a different size to suit you tray. For example if you have a 1500 x 800mm shower tray you way wish to have a 700mm or 800mm glass end panel.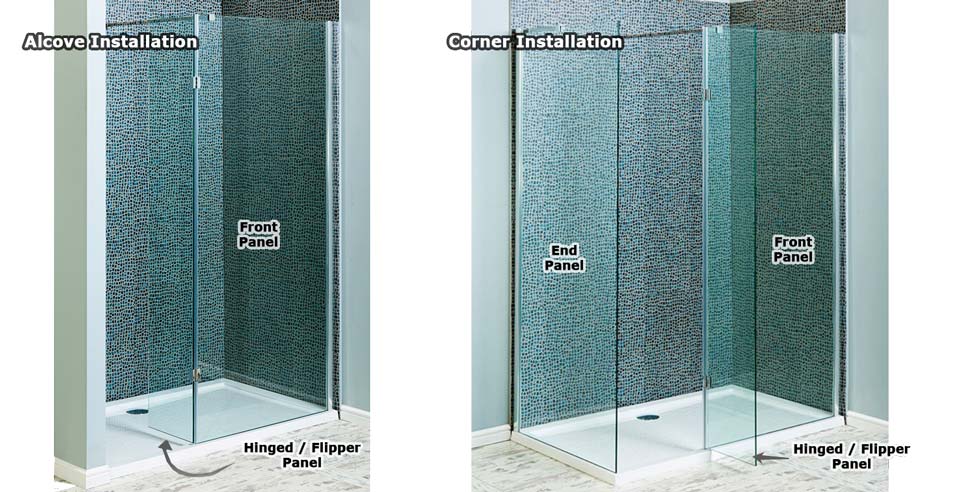 How big of an opening should I have?
The standard size opening for a walk-in shower should be no smaller than 550mm, meaning working with a 1500 x 800mm shower tray a 900mm front glass panel would be the best option.
Bracing support Bars
Any glass over 600mm in length it is recommended to have some form of support. Support bars are available in different sizes and configurations including 90 degree bars, 45 degree bars, T Bars, ceiling posts and floor to ceiling supports.
Are there pre made walk-in enclosures?
There are a range of pre constructed walk-in shower enclosures that have everything you need to make the perfect walk-in shower. These enclosures often have curved glass panels and a dedicated shaped tray to suite the glass. These enclosures are set sizes and cannot be adjusted to fit your bathroom, but if they are the right size for you room they make an easy and stunning addition to your home.
We hope we have answer some of your questions regarding walk-in shower enclosures. You can also read our other posts on walk-in showers for more information and view our range of walk-in shower enclosures at RubberduckBathrooms.co.uk. If you have any more question you would like answering please leave a comment below and we will try our best to answer them in our next post.
This guide was created for reference only. www.rubberduckbathrooms.co.uk can not be held responsible for injury or damage caused if you decide to use this method.
Information
Customer Service
Copyright © 2016 Rubber Duck Bathrooms Ltd