Call : 01642 913727 Monday-Saturday: 9am - 4pm
35,000
+ Happy Customers
Stainless Steel Vs Chrome Towel Radiators
9 Mar 2017, 5:04 PM
Heated towel rails for the bathrooms are available in all shapes, sizes and manufactured materials. The size of the towel warmer depends on the size of the room you wish to heat and how you intend to use it. Style is a matter of taste but manufactured material comes down to your budget.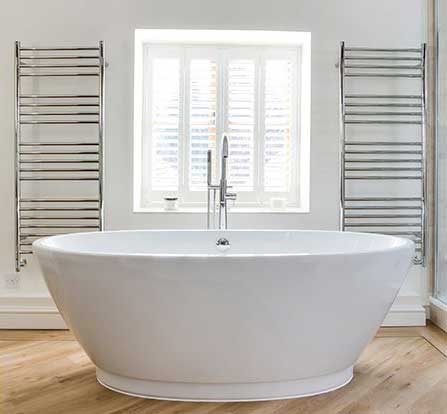 Professionals always tend to choose stainless steel towel radiators above all others.
Even in an age where designer chrome heated towel rails are undoubtedly the height of fashion, designers and plumbers alike are almost always more inclined to recommend the installation of stainless steel towel warmers over others.
Which begs the obvious question – why? What is it that makes the stainless steel towel rail a genuinely superior choice to chrome, or any other popular material for that matter? Is it worth the extra money for a Stainless Steel towel warmer?
More often than not, what tends to put homeowners off the idea of investing in stainless steel bathroom radiators is the price. Not that they are excessively expensive, but given the fact that chrome and other types of heated towel rails are usually cheaper, many of us choose the cheaper option as we are unaware of the advantages to stainless steel radiators.
Once plumbed into a central heating system and positioned in a bathroom, your towel radiator will come into prolonged contact with a wide variety of corrosive elements and prolonged contact with water. Given the fact, it simply makes sense to select radiators made from the most rust resistant material available. Other types of bathroom radiators have the potential to slowly but surely rust and corrode from the inside, eventually leading to problems with performance, boiler health and perhaps outright failure of the radiator. Exterior rusting can also be caused from the use of harsh cleaning products, scratches to the chrome which exposes the metal underneath and the constant contact with wet and damp towels and environment. Stainless steel is specifically manufactured and finished in such a way as to offer maximum resilience and protection, and remain looking like new for many years. This is why stainless steel towel warmers often come with 10 years or a 25 year guarantee.
Along with resilience and durability, one of the primary arguments in favour of stainless steel towel rails is that they conduct heat better than other standard radiator type – a full 15% better than chrome. So when it comes to performance and energy efficiency, the stainless steel radiator really is in a league of its own. Stainless steel retains heat and goes on giving out heat for much longer than a chrome radiator, adding up to real savings over the long-term.
At Rubberduck Bathrooms we offer a range of Stainless Steel Towel Warmers including JIS Sussex Stainless Steel Towel Warmers and Tarporley Stainless Steel Radiators which both ranges offer excellent quality and style.
So while it may be true to say that stainless steel towel holders for the bathroom may cost slightly more than their counterparts, what you get for your money is considerably greater performance and long-term value.
This guide was created for reference only. www.rubberduckbathrooms.co.uk can not be held responsible for injury or damage caused if you decide to use this method.
Information
Customer Service
Copyright © 2016 Rubber Duck Bathrooms Ltd