Call : 01642 913727 Monday-Saturday: 9am - 5pm
35,000
+ Happy Customers
How To Fix A Wall Hung Toilet Cistern
8 Oct 2019, 11:51 AM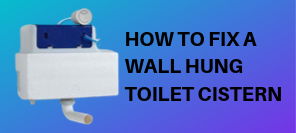 Wall-hung toilets and concealed cisterns are great, they look modern and sleek and they free up valuable space in your bathroom which is especially handy if yours is on the smaller side.
All toilets at some point require servicing though, with a standard toilet with a wall-mounted cistern its as simple as lifting the top off and you can see everything, a concealed system is different because, of course, it's in the wall.
In the video above, Roger Bisby of Skill Builder demonstrates how easy this process is using the Abacus Bathrooms 1.8m wall-hung WC and cistern. Without the use of any tools, it's very easy to strip down the inside mechanisms to carry out any servicing and repairs that may be needed.
Rubberduck Bathrooms has a range of concealed cisterns, wall mounted Toilets and fittings to make your bathroom sleek and modern.
This guide was created for reference only. www.rubberduckbathrooms.co.uk can not be held responsible for injury or damage caused if you decide to use this method.
Information
Customer Service
Copyright © 2016 Rubber Duck Bathrooms Ltd