Call : 01642 913727 Monday-Saturday: 9am - 5pm
35,000
+ Happy Customers
Choosing the right replacement toilet seat
16 Aug 2017, 1:04 PM
Choosing a new toilet seat can be a lot more confusing than you may think. You may have already realised this and now you are here for help! At first glance all toilet seats look strangely similar but they differ vastly. Don't just rush into your purchase; it is worth spending a little time researching and finding the right toilet seat. The right toilet seat will not only work as expected but can also raise the look of your bathroom or cloakroom.
There are a few things you should take into account when choosing a new toilet seat and how these factors can help you get the look you desire.

Shape and Size:
Toilets come in different shapes and sizes and so do toilet seats. To find the right seat you first have to work out what shape your pan is. You should be able to tell just by looking at your toilet what shape it is, this is even easier if the toilet seat is already attached. Most older and basic toilets are round or oval shape toilet seats, but more modern toilets can have a square toilet seat or more likely "D" Shaped toilet seat.Some toilets might have a different shape toilet seat to match the shape of the bowl, these are a dedicated toilet seat and require the exact seat to match the pan.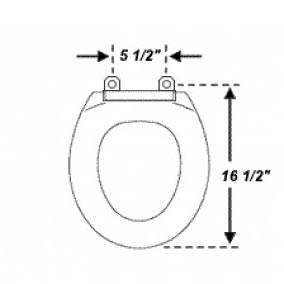 Once you have determined the shape of your toilet and the shape toilet seat that you require, you should take the following measurements:
Fixing centre distance (the point between the two fixing holes of your toilet)
Width at widest point (the width of your toilet pan at its widest point)
Total depth (the distance your toilet sticks out from the wall)
Hinge Fixings:
There are two main types of hinge fixings, top fixing and bottom fitting, and it is worth noting that not all hinges are suitable for all toilets.
Bottom Fixing Toilet Seats
Bottom fixing toilet seat hinges feature a traditional style fixing which includes fitting two bolts down into your pan and then tightening them from underneath. Wing bolts are often used. If you can get your hand up behind the toilet and feel the bolt, it is likely that a bottom fix toilet seat is the seat you need.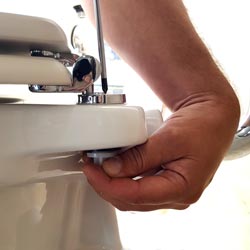 Top Fixing Toilet seats
Top fixing toilet seat hinges work by feeding two bolt fixings into the toilet pan and tightened from the top, hence the name. You could think of this as something like a wall plug in a hole in the wall. If you are unable to get to the toilet fixing or see the toilet fixings explained above in a bottom fix toilet, then it is likely you need a top fix toilet seat.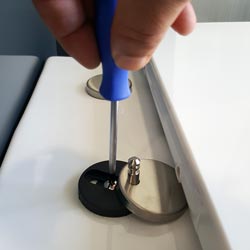 Now you have determined the shape toilet seat you need and the fixing style you require, you should now be able to find the right toilet seat to fit. This should give you all the basic information you require to replace your toilet seat, but there are some extra features available with toilet seats which you may be interested in. Please see our other post on Modern Features of Toilet Seats to learn more about the "advances in toilet seats".
If you are getting a new bathroom installed it is worth noting what toilet you are having installed as some toilet require a dedicated toilet seat, meaning a universal seat will not fit correctly and a manufactures replacement will be required.
It is good to note that toilet seats are classed as a non-returnable item once the seat has been opened from its cellophane cover. This is to stop the transfer of germs. Please ensure you do not remove the seat from its protective cover until you are sure it will fit.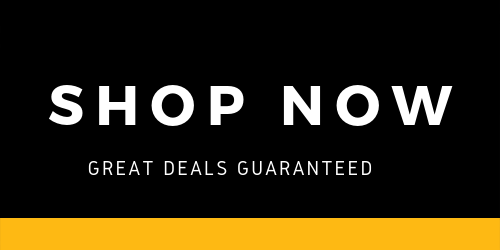 This guide was created for reference only. www.rubberduckbathrooms.co.uk can not be held responsible for injury or damage caused if you decide to use this method.
Information
Customer Service
Copyright © 2016 Rubber Duck Bathrooms Ltd