Call : 01642 913727 Monday-Saturday: 8am - 5pm
35,000
+ Happy Customers
Bathroom Colour Schemes that Always Work | Bathroom Design Inspiration
9 Dec 2020, 4:08 PM
Are you keen to experiment with colours in your new bathroom, but worried in case it starts to look dated soon after or not work together? From playing safe to going bold these bathroom colour schemes will give you a good starting point when it comes to choosing colours for your new bathroom.
How to Decide on a Bathroom Colour Scheme
Although it could sound easy on the surface, deciding on a colour scheme for a new or existing bathroom can be more of a challenge than you think when compared to other rooms in the house. This is mainly because you'll want your new colour scheme to match your fittings and fixtures, floor, towels, bathmats and more. You will also need to consider any furniture you have fitted in your bathroom too as your new colour scheme will also have to match this.
The biggest thing to consider when you're looking for a new bathroom colour scheme is how you want your bathroom to look and feel. You will also want to consider how much natural light your bathroom gets as this can influence colour choices down the line.
If you don't have a huge, sprawling bathroom as seen on the likes of Instagram and Pinterest, don't get bogged down with thinking that you have to paint everything light or white to "maximise the space" as much as you can as this can have the undesired effect of making your nice new bathroom like clinical and dull. Go big in the same way you would with a larger space with bold colours on your wall. This will make a statement and give your bathroom a unique and dramatic look.
If you're still worried about what colours to use, we recommend using one of the tried and tested combinations below that'll look great well into the future.
Black and White Bathroom Colour Schemes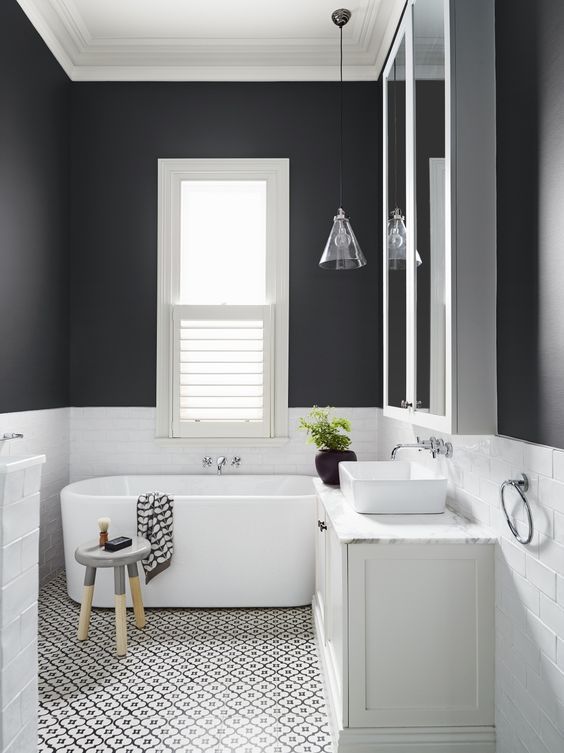 Black and white is a timeless mixture that during the Art Deco era became quite popular. For a colour mix that performs almost as well today as it did back then go for black and white tiles, chrome fittings and a silver framed mirror. A black and white style in a contemporary bathroom also fits well. Use white metro tiles part way up and black paint on the top half to make a statement by selecting an eye-catching pattern for the floor and for the walls for a touch of drama.
Use black and white accessories to complete the look, or you could add a splash of colour with red or yellow towels. Avoid making a busy look, and leave the space simple instead.
Grey Bathroom Colour Schemes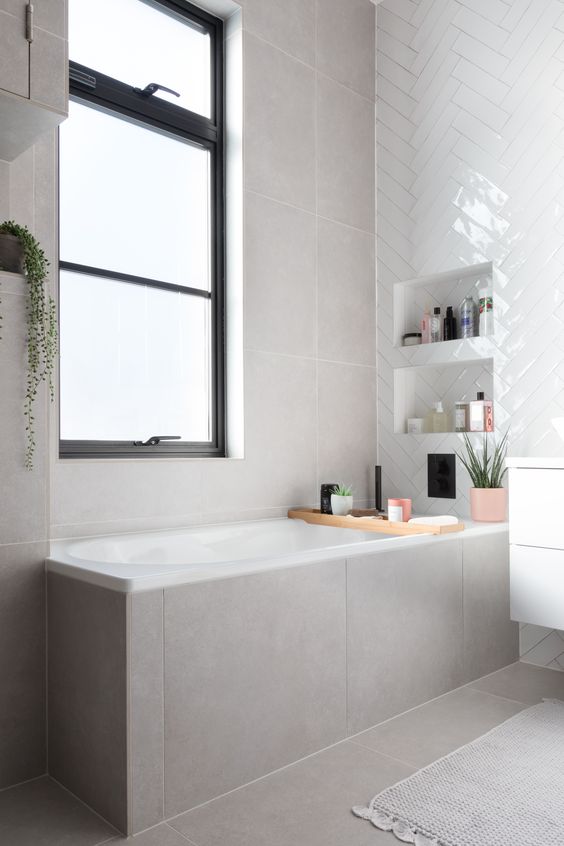 Grey bathrooms look sleek and elegant when done well. Many shades of grey are available, all of which fit well with brighter coloured accessories such as green or pink. A grey bathroom provides a peaceful and calming feeling, which is how you should feel about the most used space in your house.
You might even paint dark grey on the walls, which would really make those colours stand out. A combination which works well is dark walls with white furniture and light towels. Another choice if you don't want to paint your bathroom is grey tiles. A smooth, atmospheric feel is added by bright, glossy grey tiles, while dark grey slate effect tiles produce a natural feel. To continue the natural trend, you might also fit a slate effect shower tray.
Neutral Bathroom Colour Schemes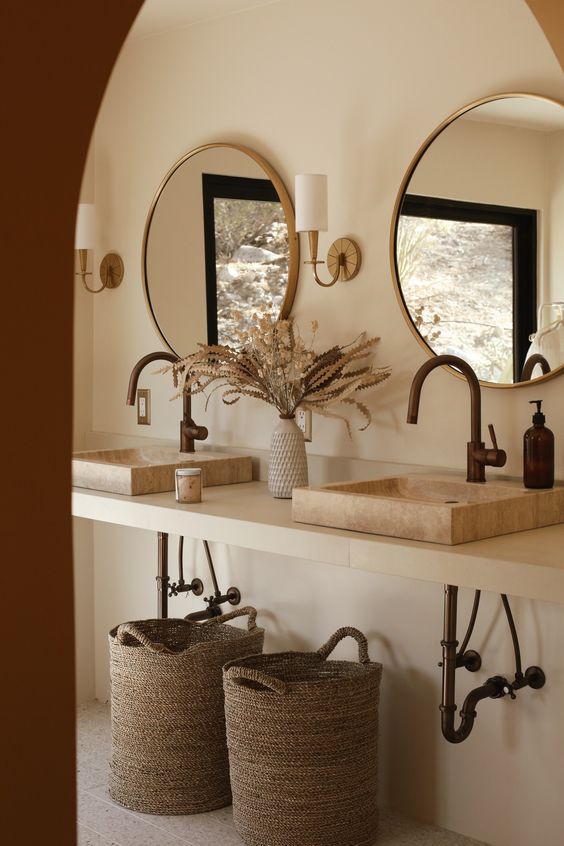 A neutral scheme can be basic, but it will really stand the test of time, and even if it isn't eye-catching, it will make your bathroom look cosy and welcoming. By incorporating brighter or darker colours, you might try playing with this colour scheme.
Neutral tones are simple to work with and timeless appeal. They also fit great with furniture that is ideal for western or country bathrooms, with a wood effect or white finish. Combine neutral colours with oak or dark wood furniture for a more contemporary touch.
Mocha tones pair best with creamy white, with various espresso-inspired colours you might layer to add depth. It's a smart idea to use colour blocks to illustrate the various areas of your bathroom such as the toilet to attract added excitement. If you're not interested in creamy white, opt instead for a crisp white and contrast it with a soft and dark mocha. Avoid using bold or bright colours as this subtle scheme will not work with them.
In your bathroom, a blue and yellow colour scheme will add a vivid, cheerful feel. Opt for sky or ocean blue as your primary colour for a cooler feel, and use yellow for the accent colour. For a warmer scheme, use tiles or paint and accent with blue while using yellow as the main colour.
As it can be overpowering, particularly in a small bathroom, try not to go over the top with yellow. An eye-catching focal point can be created by mosaic tiles confined to a certain region of your bathroom, such as in the shower or behind the toilet.
Green Bathroom Colour Schemes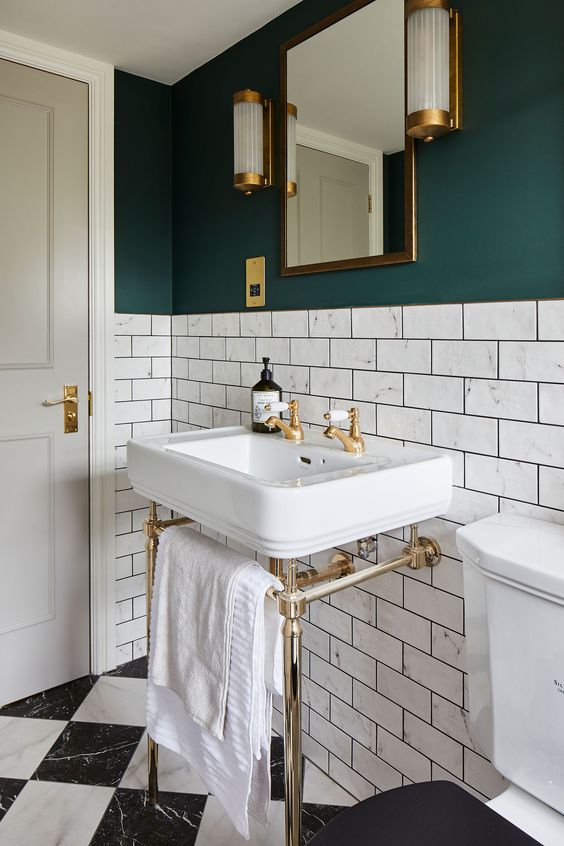 Earthy green hues offer the ideal way for the bathroom to have an organic feel. Earthy green paired with off-white tones enhances a feeling of calm, which is also suitable for traditional bathroom systems. For softening busy designs, this colour is also fantastic.
Duck Egg Blue Bathroom Colour Schemes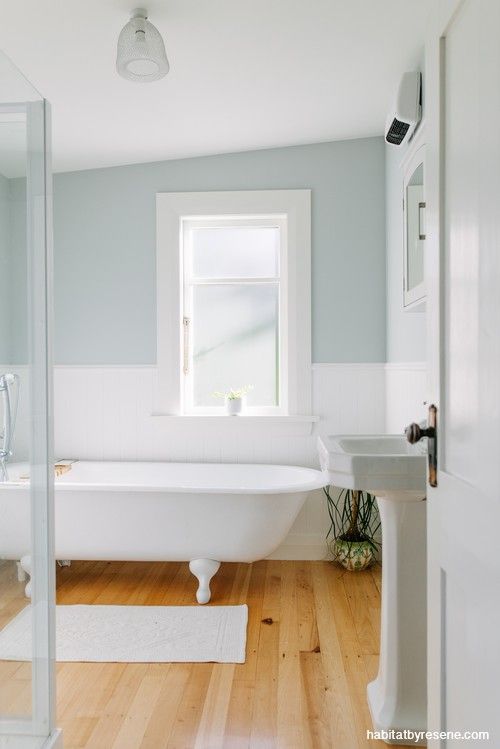 It may have been around for a while, but a timeless colour that will never go out of fashion is duck egg blue. Duck egg blue is a great shade for the bathroom, perfect for softening the room, adding a splash of colour and encouraging calmness.
When paired with cream, brown or pastel shades for a nice bathroom scheme, Duck egg blue fits well.
White Bathroom Colour Schemes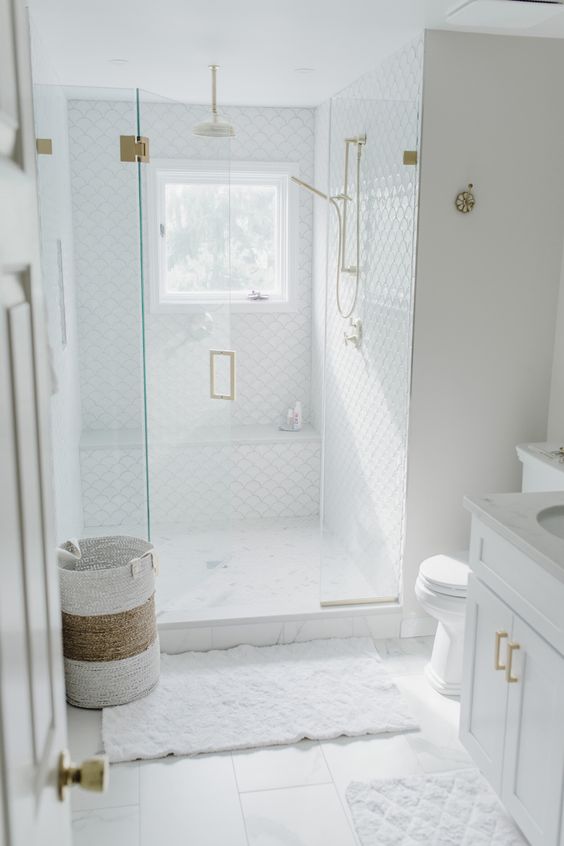 White has to be the bathroom's most common colour choice. To build a clean, new look, it is a perfect choice and works equally well in both contemporary and traditional bathrooms. Since white is so popular, this means that more white bathroom items are available than any other colour in the bathroom. White bathroom tiles come in multiple patterns and textures, while white basins, vanity units, toilets and baths are available in a wide variety of styles and shapes.
Share your bathroom colour creations!
If you're building the bathroom of your dreams we'd love to see it! Follow us on Instagram @rubberduckbathrooms (or click the link) and tag us in your #MyRubberDuckBathroom!
This guide was created for reference only. www.rubberduckbathrooms.co.uk can not be held responsible for injury or damage caused if you decide to use this method.
Information
Customer Service
Copyright © 2016 Rubber Duck Bathrooms Ltd